---
---
---
---
---
---
List of All Roman Emperors and Empresses Chronologically organized:
Ancient Greek Cities or Kingdoms of Interest
Ancient Greek Rulers of Interest
Related to Christianity
Ancient Greek / Roman Deities, Locations and more:
Astrological Ancient Coins - Just some of the Ideas for Owning, available inside my eBay store.
Byzantine Coins
Browse by Category:
Dalmatius Roman Caesar 335-337AD Biography Ancient Coins Numismatic Investment
Buy coins of Dalmatius Roman Caesar, Dalmatius was son of another Flavius Dalmatius. Read his biography and watch a video presentation about the emperor by trusted coin dealer, Ilya Zlobin. Every coin comes with it's own custom-made, unique certificate of authenticity $50-$100 value, absolutely free, a lifetime guarantee of authenticity, professional research photograph and history.
Find out for yourself what over 10,000 other satisfied customers say about their experience and start your ancient coin collection today.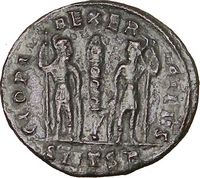 Example of Authentic Ancient Coin of:
Dalmatius - Roman Caesar: 335-337 A.D. -
Bronze AE3 Thessalonica mint: 335-336 A.D.
Reference: RIC 227 (Thessalonica), LRBC 850
FLDELMATIVSNOBC - Laureate, draped and cuirassed bust right.
GLORIAEXERCITVS Exe: SMTSB - Two soldiers either side of one standard.
Flavius Dalmatius (died 337), also known as Dalmatius Caesar, was a Caesar (335-337) of the Roman Empire, and member of the Constantinian dynasty.
Dalmatius was son of another Flavius Dalmatius, censor, and nephew of Constantine I. Dalmatius and his brother Hannibalianus were educated at Tolosa (Toulouse) by rhetor Exuperius.
On 19 September 335, he was raised to the rank of Caesar, with the control of Thracia, Achaea and Macedonia. Dalmatius died in late summer 337, killed by his own soldiers. It is possible that his death was related to the purge that hit the imperial family at the death of Constantine, and organized by Constantius II with the aim of removing any possible claimant to the throne.
Just some of recently listed authentic ancient coins and artifacts from a selection of thousands of items:


Dalmatius Roman Caesar 335AD Very rare Ancient Roman Coin Legions i34294

US $150.00
Sale Ends: Wednesday Jan-08-2014 12:12:44 PST
Buy It Now for only: US $150.00
Buy it Now

Click here to View more from my Store >
GALLIENUS Valerian I son Roman Coin Centaur Part horse & man Sagittarius i29006

US $69.00 (0 Bid)
Sale Ends: Wednesday Dec-18-2013 1:00:54 PST
Place a Bid

GORDIAN III Ancient Silver Roman Coin "Venus the Victorious" i18016
US $240.00 (0 Bid)
Sale Ends: Wednesday Dec-18-2013 1:00:43 PST
Place a Bid

Parthia Kingdom Pakoros I & Arsakes I 78AD Silver Ancient Islamic Coin i32375
US $250.00 (0 Bid)
Sale Ends: Wednesday Dec-18-2013 1:00:12 PST
Place a Bid

Xerxes Artaxerxes I Lydia Persian Imperial Coinage Silver Ancient coin i32079
US $300.00 (0 Bid)
Sale Ends: Wednesday Dec-18-2013 1:00:02 PST
Place a Bid

CARACALLA 198AD Anchialus CITY GATE Architectural Ancient Roman Coin i23655
US $280.00 (0 Bid)
Sale Ends: Tuesday Dec-17-2013 20:29:24 PST
Place a Bid

Octavian Augustus & Mark Antony 37BC Thessalonica Ancient Roman Coin i35650
US $270.00 (0 Bid)
Sale Ends: Tuesday Dec-17-2013 20:26:51 PST
Place a Bid

Adramytteion Mysia 357BC Ancient Greek Coin ZEUS Pegasus winged horse i33827
US $125.00 (0 Bid)
Sale Ends: Tuesday Dec-17-2013 20:22:56 PST
Place a Bid

Roman Republic Scaurus Bituitus Ancient Silver Coin ROMA HORSE Rare i20153
US $570.00 (0 Bid)
Sale Ends: Tuesday Dec-17-2013 20:20:24 PST
Place a Bid

Julia Domna 196AD Silver Roman Coin Good humor Goddess Caracalla & Geta i30403
US $99.00 (0 Bid)
Sale Ends: Tuesday Dec-17-2013 20:16:57 PST
Place a Bid

GETA 209AD Pautalia Thrace River God HUGE Rare Genuine Ancient Roman Coin i22457
US $200.00 (0 Bid)
Sale Ends: Tuesday Dec-17-2013 19:55:12 PST
Place a Bid

AEMILIAN 253AD DACIA Lion & Eagle Legions VERY RARE Huge Roman Coin i28675
US $280.00 (0 Bid)
Sale Ends: Tuesday Dec-17-2013 19:51:16 PST
Place a Bid

Roman Republic Minucius, Augurinus 134B CIonic Column Togate Silver Coin i22375
US $500.00 (0 Bid)
Sale Ends: Tuesday Dec-17-2013 19:48:04 PST
Place a Bid

TREBONIANUS GALLUS Ancient Roman Coin Viminacium Legion Bull & Lion i30267
US $250.00 (0 Bid)
Sale Ends: Tuesday Dec-17-2013 19:23:06 PST
Place a Bid

ABDERA Thrace 415BC Griffin & Bull Rare Ancient Silver Greek Coin i26489
US $220.00 (0 Bid)
Sale Ends: Tuesday Dec-17-2013 19:21:14 PST
Place a Bid

JULIA DOMNA Caracalla & Geta mother Ancient Silver Roman Coin CYBELE i22966
US $250.00 (0 Bid)
Sale Ends: Tuesday Dec-17-2013 19:17:11 PST
Place a Bid

Birytis in Troas 300BC Ancient Greek Coin Odysseus Ulysses Club RARE i36309
US $180.00 (0 Bid)
Sale Ends: Tuesday Dec-17-2013 19:14:31 PST
Place a Bid

NERO as Apollo Fiddles While Rome Burns Thessaly Roman Coin Greek Region i28371
US $370.00 (0 Bid)
Sale Ends: Tuesday Dec-17-2013 18:43:36 PST
Place a Bid

Dyrrhachium Illyria 208BC Silver Greek Coin Cow Calf Fertility Serpent i30588
US $250.00 (0 Bid)
Sale Ends: Tuesday Dec-17-2013 18:37:22 PST
Place a Bid

JULIA MAMAEA Silver Roman Coin JUNO wife & sister of Jupiter w baby i26756
US $270.00 (0 Bid)
Sale Ends: Tuesday Dec-17-2013 18:30:01 PST
Place a Bid

Herod Archelaus Ethnarch over Judaea, Samaria & Idumaea Jerusalem Coin i36295
US $140.00 (0 Bid)
Sale Ends: Tuesday Dec-17-2013 18:22:38 PST
Place a Bid

GETA sacrificing over ALTAR 205AD QUALITY Ancient Silver Roman Coin i18545
US $400.00 (0 Bid)
Sale Ends: Tuesday Dec-17-2013 18:18:06 PST
Place a Bid

Vespasian 69AD Macedonian mint Large Rare Ancient Roman Coin Shield i28764
US $500.00 (0 Bid)
Sale Ends: Tuesday Dec-17-2013 18:15:07 PST
Place a Bid

GETA 200AD Rare CASTOR Dioscuri Twin w Horse Ancient Silver Roman Coin i33901
US $430.00 (0 Bid)
Sale Ends: Tuesday Dec-17-2013 17:49:58 PST
Place a Bid

AKRAGAS in SICILY 420BC Tetras Eagle, Hare & Crab Ancient Greek Coin i25167
US $250.00 (0 Bid)
Sale Ends: Tuesday Dec-17-2013 17:47:35 PST
Place a Bid

Roman Republic Cn. Domitius Ahenobarbus 116BC Ancient Silver Coin Horse i22377
US $650.00 (0 Bid)
Sale Ends: Tuesday Dec-17-2013 17:44:35 PST
Place a Bid

Caligula 37AD Rome mint HUGE Ancient Roman Coin VESTA Home Family RARE i36291
US $1,500.00 (0 Bid)
Sale Ends: Tuesday Dec-17-2013 17:42:43 PST
Place a Bid

Greek city of Philadelphia 2-1st Century BC Dioscuri Gemini Ancient Coin i34346
US $270.00 (0 Bid)
Sale Ends: Tuesday Dec-17-2013 17:42:10 PST
Place a Bid

Geta w club 200AD Silver Very rare Ancient Roman Coin Trophy Tropaion i31145
US $335.00 (0 Bid)
Sale Ends: Tuesday Dec-17-2013 17:38:10 PST
Place a Bid

ATL Athe Ati Mercenary Tribe Sicily VERY RARE 357BC Ancient Greek Coin i28235
US $333.00 (0 Bid)
Sale Ends: Tuesday Dec-17-2013 17:34:20 PST
Place a Bid

Roman Republic P. Laeca LAW AGAINST CRUEL PUNISHMENT 110BC Silver Coin i18527
US $500.00 (0 Bid)
Sale Ends: Tuesday Dec-17-2013 17:32:49 PST
Place a Bid

NERO 65AD Maeonia in Lydia EPHESIAN ARTEMIS Cult Statue Roman Coin RARE i27514
US $250.00 (0 Bid)
Sale Ends: Tuesday Dec-17-2013 17:30:26 PST
Place a Bid

Roman Republic Musa 66BC Ancient Silver Coin Muse of sacred poetry dance i33898
US $830.00 (0 Bid)
Sale Ends: Tuesday Dec-17-2013 17:26:45 PST
Place a Bid

Antiochus VII Eurgetes Silver Greek Coin under King Ariarathes VII i26044 HUGE
US $600.00 (0 Bid)
Sale Ends: Tuesday Dec-17-2013 17:25:08 PST
Place a Bid

GETA 207AD Rare Silver Ancient Roman Coin Minerva Wisdom Magic Commerce i26680
US $280.00 (0 Bid)
Sale Ends: Tuesday Dec-17-2013 17:21:58 PST
Place a Bid

SEVERUS ALEXANDER 223AD Ancient Silver Roman Coin Nude ZEUS Thunderbolt i18690
US $300.00
Sale Ends: Thursday Jan-09-2014 17:23:12 PST
Buy It Now for only: US $300.00
Buy it Now
ANTIOCHUS I, SOTER Seleucid Possibly Unpublished Ancient Greek Coin i34351 HORSE
US $315.00 (0 Bid)
Sale Ends: Tuesday Dec-17-2013 15:56:25 PST
Place a Bid

Greek city of Rhodes, Islands off Caria 125BC Silver Coin Helios Rose i33590
US $250.00 (0 Bid)
Sale Ends: Monday Dec-16-2013 19:17:38 PST
Place a Bid

Helena Mother of Constantine the Great 328AD Ancient Roman Coin Security i30045
US $260.00 (0 Bid)
Sale Ends: Tuesday Dec-17-2013 1:00:55 PST
Place a Bid

VALERIAN I 255AD Ancient Authentic Silver Roman Coin FELICITAS Good Luck i21583
US $79.00 (0 Bid)
Sale Ends: Tuesday Dec-17-2013 1:00:52 PST
Place a Bid

Augustus & Julius Caesar 27BC Authentic Ancient Roman Coin i34009
US $133.00 (0 Bid)
Sale Ends: Tuesday Dec-17-2013 1:00:49 PST
Place a Bid

ANTIOCHOS III 223BC Seluecid Kingdom Apollo Elephant Ancient Greek Coini i33823
US $97.00 (0 Bid)
Sale Ends: Tuesday Dec-17-2013 1:00:36 PST
Place a Bid

RHODES Greek Island off Caria 387BC Rare Ancient Greek Coin ROSE Helios i18496
US $950.00 (0 Bid)
Sale Ends: Monday Dec-16-2013 18:42:06 PST
Place a Bid

TIBERIUS adapted son of Augustus Apollonoshieron Ancient Roman Coin Lyre i21869
US $500.00 (0 Bid)
Sale Ends: Monday Dec-16-2013 20:01:59 PST
Place a Bid

Probus 281AD Ancient Roman Coin Sol Sun God Horse quadriga Rare i29114
US $79.00 (0 Bid)
Sale Ends: Monday Dec-16-2013 19:48:25 PST
Place a Bid

PHILIP V Macedonia 221BC Hercules Flute Rare Ancient Greek Coin i22731
US $9.99 (0 Bid)
Sale Ends: Monday Dec-16-2013 19:44:02 PST
Place a Bid

Alexander III the Great 336BC Ancient Greek Coin Hercules Bow Club i30226
US $290.00 (0 Bid)
Sale Ends: Monday Dec-16-2013 19:40:27 PST
Place a Bid

VESPASIAN 71AD Ephesus Mint Ceres RARE Ancient Silver Roman Coin i26972
US $550.00 (0 Bid)
Sale Ends: Monday Dec-16-2013 19:35:42 PST
Place a Bid

MAGNENTIUS 350AD Lugdunum Ancient Roman Coin Labarum CHI-RHO Christ i20948
US $450.00 (0 Bid)
Sale Ends: Monday Dec-16-2013 19:35:10 PST
Place a Bid

ANTONINUS PIUS & MARCUS AURELIUS as CAESAR Ancient Silver Roman Coin Rare i29457
US $850.00 (0 Bid)
Sale Ends: Monday Dec-16-2013 19:34:42 PST
Place a Bid

FAUSTINA II Marcus Aurelius Wife HUGE Rare Ancient Roman Coin Fertility i16811
US $950.00 (0 Bid)
Sale Ends: Monday Dec-16-2013 19:33:59 PST
Place a Bid

VALERIAN I 253AD Antioch Syria TYCHE TEMPLE Ancient Roman Coin Rare i20011
US $300.00 (0 Bid)
Sale Ends: Monday Dec-16-2013 19:33:38 PST
Place a Bid

GALLIENUS Son of Valerian I Alexandria in Egypt Eagle Ancient Roman Coin i36287
US $120.00 (0 Bid)
Sale Ends: Monday Dec-16-2013 19:27:54 PST
Place a Bid

Authentic Lead Stamp circa 1850-1900 AD "CASH VALUE" Artifact i19568
US $140.00
Sale Ends: Wednesday Jan-08-2014 19:32:22 PST
Buy It Now for only: US $140.00
Buy it Now
AUGUSTUS Posthumous Issue under Tiberius Ancient Roman Coin Altar i33830
US $265.00 (0 Bid)
Sale Ends: Monday Dec-16-2013 19:23:55 PST
Place a Bid

LUCIUS VERUS co-emperor of Marcus Aurelius Very rare Ancient Roman Coin i27515
US $280.00 (0 Bid)
Sale Ends: Monday Dec-16-2013 19:23:24 PST
Place a Bid

Augustus 27BC Amphipolis Macedon Rare Ancient Roman Coin Artemis Bull i30611
US $400.00 (0 Bid)
Sale Ends: Monday Dec-16-2013 19:20:05 PST
Place a Bid

SEPTIMIUS SEVERUS Medallic Huge Ancient Roman Coin ANTIOCH Mên MOON GOD i22868
US $800.00 (0 Bid)
Sale Ends: Monday Dec-16-2013 19:19:33 PST
Place a Bid

Severus Alexander Nicaea in Bythinia Roman Coin 3 legionary Standards i22625
US $140.00 (0 Bid)
Sale Ends: Monday Dec-16-2013 18:46:05 PST
Place a Bid

TIBERIUS Adapted son of Augustus ARTEMIS on Bull Ancient Roman Coin i24624
US $250.00 (0 Bid)
Sale Ends: Monday Dec-16-2013 18:45:31 PST
Place a Bid

Gallienus son of Valerian I Ancient Roman Coin Fertility i34798
US $19.00 (0 Bid)
Sale Ends: Monday Dec-16-2013 18:42:49 PST
Place a Bid

GALLIENUS son of Valerian I Ancient Roman Coin Jupiter i34490
US $29.00 (0 Bid)
Sale Ends: Monday Dec-16-2013 18:40:08 PST
Place a Bid

Fibula 50AD Ancient Roman TOGA Clothes Fastener ARTIFACT Genuine BROOCH i15394
US $59.00 (0 Bid)
Sale Ends: Monday Dec-16-2013 18:39:35 PST
Place a Bid

TRAJAN 103AD Roman Emperor on Horseback Spears Dacian Ancient Coin i29390
US $850.00 (0 Bid)
Sale Ends: Monday Dec-16-2013 18:37:44 PST
Place a Bid

Constantine I The Great 320AD Ancient Roman Coin Wreath of success i36003
US $8.99 (0 Bid)
Sale Ends: Monday Dec-16-2013 18:36:52 PST
Place a Bid

Nero 54AD Cassandrea in Macedonia Very rare Ancient Roman Coin ZEUS Ammon i30607
US $500.00 (0 Bid)
Sale Ends: Monday Dec-16-2013 18:35:53 PST
Place a Bid

Constantine I The Great founds Constantinople Ancient Roman Coin Victory i35985
US $7.99 (0 Bid)
Sale Ends: Monday Dec-16-2013 18:34:09 PST
Place a Bid

Constantine I The Great 319AD Ancient Roman Coin Two Victories w shield i35314
US $9.99 (0 Bid)
Sale Ends: Monday Dec-16-2013 18:30:41 PST
Place a Bid

Valerian I 256AD Rare Silver Ancient Roman Coin Victory Nike i30462
US $97.00 (0 Bid)
Sale Ends: Monday Dec-16-2013 18:29:45 PST
Place a Bid

BYZANTINE Ancient Medieval Empire COINS from Circa 600-1300AD Cross i33319
US $19.00 (0 Bid)
Sale Ends: Monday Dec-16-2013 18:26:54 PST
Place a Bid

Gallienus son of Valerian I Ancient Roman Coin Mars Ares i33341
US $9.99 (0 Bid)
Sale Ends: Monday Dec-16-2013 18:26:18 PST
Place a Bid

Constantine I The Great 318AD Ancient Roman Coin Two Victories w shield i35993
US $9.99 (0 Bid)
Sale Ends: Monday Dec-16-2013 18:24:30 PST
Place a Bid

VALENTINIAN I 364AD Ancient Roman Coin Nike Victory Angel i36347
US $75.00
Sale Ends: Wednesday Jan-08-2014 18:15:53 PST
Buy It Now for only: US $75.00
Buy it Now
VALENTINIAN II 388AD Ancient Roman Coin Victory Nike with trophy i36346
US $125.00
Sale Ends: Wednesday Jan-08-2014 18:08:03 PST
Buy It Now for only: US $125.00
Buy it Now
CONSTANTIUS II Constantine the Great son Roman Coin Legions Soldiers i36345
US $100.00
Sale Ends: Wednesday Jan-08-2014 17:53:43 PST
Buy It Now for only: US $100.00
Buy it Now
Constans Gay Emperor Constantine the Great son Roman Coin Glory of Army i36344
US $125.00
Sale Ends: Wednesday Jan-08-2014 17:44:56 PST
Buy It Now for only: US $125.00
Buy it Now
Constantine II Constantine the Great son Roman Coin Labarum Christ monogr i36343
US $200.00
Sale Ends: Wednesday Jan-08-2014 17:11:01 PST
Buy It Now for only: US $200.00
Buy it Now
Constans Gay Emperor Constantine the Great son Roman Coin Glory of Army i36342
US $125.00
Sale Ends: Wednesday Jan-08-2014 17:05:09 PST
Buy It Now for only: US $125.00
Buy it Now
CONSTANTIUS II Constantine the Great son Roman Coin Battle Horse man i36341
US $100.00
Sale Ends: Wednesday Jan-08-2014 16:49:31 PST
Buy It Now for only: US $100.00
Buy it Now
CONSTANTINE II Constantine the Great son Roman Coin Military camp gate i36340
US $135.00
Sale Ends: Wednesday Jan-08-2014 16:44:16 PST
Buy It Now for only: US $135.00
Buy it Now
VALENS 364AD Ancient Roman Coin CHRIST Monogram CHI-RHO Labarum i29842
US $175.00
Sale Ends: Wednesday Jan-08-2014 12:39:03 PST
Buy It Now for only: US $175.00
Buy it Now
Valens 364AD Rare Ancient Roman Coin Labarum Chi-Rho Chist monogram i29628
US $175.00
Sale Ends: Wednesday Jan-08-2014 12:36:20 PST
Buy It Now for only: US $175.00
Buy it Now
Justin II 565AD Ancient Byzantine Coin Large Chi-Rho Christ monogram i33996
US $57.00 (0 Bid)
Sale Ends: Monday Dec-16-2013 12:29:06 PST
Place a Bid

LEO I 457AD Rare Authentic Ancient Roman Coin w MONOGRAM i20603
US $145.00
Sale Ends: Wednesday Jan-08-2014 12:32:44 PST
Buy It Now for only: US $145.00
Buy it Now
Crispus Constantine the Great son Ancient Roman Coin Wreath of success i34220
US $150.00
Sale Ends: Wednesday Jan-08-2014 12:31:28 PST
Buy It Now for only: US $150.00
Buy it Now
AUGUSTUS Victory Over Brutus Cassius Assasins of Julius Caesar Roman Coin i33702
US $99.00 (0 Bid)
Sale Ends: Monday Dec-16-2013 12:14:22 PST
Place a Bid

Thessalonica 88BC Rare Greek Coin JANUS CENTAURS part man part horse i33620
US $49.00 (0 Bid)
Sale Ends: Monday Dec-16-2013 12:12:41 PST
Place a Bid

Authentic Ancient Greek Coin of City in Asia Minor 350BC Athena Galley i34357
US $145.00
Sale Ends: Wednesday Jan-08-2014 12:15:48 PST
Buy It Now for only: US $145.00
Buy it Now
AUGUSTUS 27BC Ancient Roman Coin Two Colonists plowing w two oxen i35832
US $44.00 (0 Bid)
Sale Ends: Monday Dec-16-2013 12:09:35 PST
Place a Bid

CLAUDIUS II Gothicus 268AD Ancient Roman Coin Genius Protection Wealth i34845
US $9.99 (0 Bid)
Sale Ends: Monday Dec-16-2013 12:09:06 PST
Place a Bid

Dalmatius Roman Caesar 335AD Very rare Ancient Roman Coin Legions i34294
US $150.00
Sale Ends: Wednesday Jan-08-2014 12:12:44 PST
Buy It Now for only: US $150.00
Buy it Now
MARK ANTONY & CLEOPATRA Legion Ship Augustus Ancient Silver Roman Coin i32348
US $73.00 (0 Bid)
Sale Ends: Monday Dec-16-2013 12:06:18 PST
Place a Bid

GALLIENUS son of Valerian I HUGE SESTERTIUS Rare Roman Coin Soldier i19007
US $2,000.00 (0 Bid)
Sale Ends: Monday Dec-16-2013 12:05:53 PST
Place a Bid

Valentinian II 388AD Ancient Roman Coin Victory Chi-Rho Christ monogram i35852
US $9.99 (0 Bid)
Sale Ends: Monday Dec-16-2013 12:03:34 PST
Place a Bid

TRAJAN addresses SOLDIERS Rare 114AD Rome Sesterius Ancient Roman Coin i19004
US $2,850.00 (0 Bid)
Sale Ends: Monday Dec-16-2013 12:02:22 PST
Place a Bid

TRAJAN DECIUS Dacia Legions V & XIII BIG Ancient Roman Coin Eagle & LION i28871
US $250.00 (0 Bid)
Sale Ends: Monday Dec-16-2013 12:01:53 PST
Place a Bid

Claudius & Divus Augustus Very Rare Ancient Roman Coin Two Portraits i28473
US $870.00 (0 Bid)
Sale Ends: Monday Dec-16-2013 12:01:18 PST
Place a Bid

CALIGULA & RHOMETALCES III Ancient Roman Coin Very RARE Two portraits i22425
US $900.00 (0 Bid)
Sale Ends: Monday Dec-16-2013 12:00:12 PST
Place a Bid

THEODOSIUS I 379AD Authentic Ancient Roman Coin Wreath of success i35556
US $36.00 (0 Bid)
Sale Ends: Monday Dec-16-2013 11:59:46 PST
Place a Bid

PROBUS on horse 280D Authentic Ancient Roman Coin i27294
US $49.00 (0 Bid)
Sale Ends: Monday Dec-16-2013 11:56:59 PST
Place a Bid

Julian II 'The Apostate' w spear 361AD Ancient Roman Coin Wreath i31587
US $79.00 (0 Bid)
Sale Ends: Monday Dec-16-2013 11:56:39 PST
Place a Bid


Click here to View more from my Store >