---
---
---
---
Check out these fascinating articles for more great ideas:
---
List of All Roman Emperors and Empresses Chronologically organized:
Ancient Greek Cities or Kingdoms of Interest
Ancient Greek Rulers of Interest
Related to Christianity
Ancient Greek / Roman Deities, Locations and more:
Astrological Ancient Coins - Just some of the Ideas for Owning, available inside my eBay store.
Byzantine Coins
Browse by Category:
Welcome to the best ancient Greek, Roman, Biblical, Medieval, Byzantine online coin store. Up above are pages you can click on that give you great ideas about the types of coins available for sale. Items are usually shipped daily so you can rest assured to make these as great unique gifts for both men and women. As a numismatist, I believe ancient coins make one of the best investments. Collectors of numismatic coins may fall in love with this old money. Ancient coins come in both bronze and precious metals such as silver and gold. What is great is that you can great value as these types of coins are not popularized in places such as the antiques roadshow or pawn stars. You can see for yourself by the feedback, that there is over 99% positive experience for anyone that shops here and that you are dealing with one of the best, most reputable coin dealers on the internet. Coin collecting is easy and fun with the wealth of information presented. It is an amazing feeling to hold historical currency from thousands of years ago. These coins are worth money not just for their intrinsic, but also historical, numismatic and collector value. Investing money into an ancient coin collection is for anyone who values rarity, beauty and so much more that make up this great hobby. You may be looking for advice on how or where to start. There are many great links available in my eBay store that cover many great topics on ancient coins. Anything that you buy here is of great value, especially for the long term and the short term. The prices you can buy coins here are negotiable via the 'make offer' feature that is available on all items so you can get amazingly good deals buying coins and a selection of rarities not found anywhere else. The collecting guide above is a great list that can be used as a tool to collect almost every emperor or empress as it is in chronological order and allows you to search my store for those coins by clicking on them. Other great topics, such as Ancient Greek and Roman Commemorative coins deals with the most interesting commemorative coins you can buy. Happy shopping. I look forward to dealing with you for a lifetime. Some of the oldest, most valuable ancient coins that you may find here are that of Julius Caesar and Alexander the Great. Exchange your modern money for ancient money by buying an amazing ancient coin today. A great gift for yourself and others.
To help people find my store
Julia Soaemias Elagabalus mother de facto ruler of Rome Ancient Coins for Sale to Collect or to make a Numismatic Investment
Buy certified authentic coins of Julia Soaemias Elagabalus

Enjoy incredible value as every coin purchased here comes with it's own, signed, custom-made certificate of authenticity, a $50-$100 value, absolutely free!
Check it out today.
s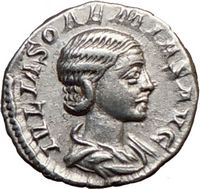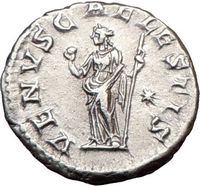 Example of Authentic Ancient Coin of:
Julia Soaemias - Roman Empress Mother of Elagabalus, Roman Emperor 218-222 A.D. -
Silver Denarius Rome mint: 220-222 A.D.
Reference: RIC 241 (Elagabalus), S 7719
IVLIA SOAEMIAS AVG - Draped bust right.
VENVSCAELESTIS - Venus standing left, holding apple and scepter; star in right field.
Julia Soaemias Bassiana (180 - March 11, 222) was the mother of Roman Emperor Elagabalus and ruled over the Roman Empire during the minority of her son's rule.
Julia was the daughter of Julia Maesa, a powerful Roman woman of Syrian origin, and Syrian noble Julius Avitus. Julia was born and raised in Emesa (modern Homs, Syria). She was a niece of empress Julia Domna and emperor Septimius Severus and a sister of Julia Avita Mamaea. Her husband was Sextus Varius Marcellus, a Syrian Roman of an Equestrian family. As members of the imperial Roman family, they lived in Rome, where their numerous children were born.
In 217, her cousin, Emperor Caracalla, was killed and Macrinus ascended to the imperial throne. Julia's family was allowed to return to Syria with the whole of their financial assets. They would not allow the usurper to stand unopposed. Together with her mother, Julia plotted to substitute Macrinus with her son Elagabalus. To legitimise this plot, Julia and her mother spread the rumour that the thirteen-year-old boy was Caracalla's illegitimate son. In 218 Macrinus was killed and Bassianus became emperor with the name of Elagabalus.
Julia became the de facto ruler of Rome, since the teenager was concerned mainly with religious matters. Their rule was not popular and soon discontent arose, mainly because of the strange sexual behaviour and the eastern religious practices of Elagabalus. Julia Soaemias and Elagabalus were killed by the Praetorian Guard in 222. Julia was later declared public enemy and her name erased from all records.