---
---
---
---
---
---
List of All Roman Emperors and Empresses Chronologically organized:
Ancient Greek Cities or Kingdoms of Interest
Ancient Greek Rulers of Interest
Related to Christianity
Ancient Greek / Roman Deities, Locations and more:
Astrological Ancient Coins - Just some of the Ideas for Owning, available inside my eBay store.
Byzantine Coins
Browse by Category:
Licinius I Roman Emperor 308-324AD Biography Buy Certified Authentic Ancient Coins Investment
Buy certified ancient coins with Licinius I Roman Emperor
Get incredible value with a LIFETIME GUARANTEE of AUTHENTICITY.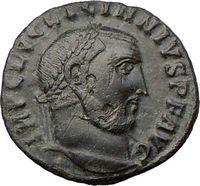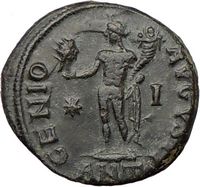 Example of Authentic Ancient Coin of:
Licinius I - Roman Emperor: 308-324 A.D. -
Bronze Follis Antioch mint 312 A.D.
IMPCLICLICINNIVSPFAVG - Laureate head right.
GENIOAVGVSTI Exe: */I/ANT - Genius standing left, holding head of Sol and cornucopia.

GENIUS. The name comes probably from Lat. gignere, because this deity was assigned to each human when he was conceived or he was taken under his protection (Varro), or he has created us himself or has been created together with us (Apuleius).

It's clear, that the Romans tried to integrate the Genius into their mythology. His parents should have been Jupiter and Gaea, who has born him, after Jupiter has created him when he was asleep. Others suggest that he was a son of the gods and the father of men. In any case all suggest that the Genii - there are many of them! - take a middle position between the gods and men. As soon as a human being was born one or two Genii were assigned to him, a white good one and a black bad one. The good one gives him all of his good thoughts, the bad one the contrary. Which ever is the stronger one he is the one who forms the character of the man. Genii always appear at males. Within women there were the Junones. The Genii stayed with their person until his death when they gave him to the gods. According to others each man has only one Genius. The Genius handed down his man to the court and blamed him if he was lying or praised him when he kept the truth. According to the Genius the judgement was given to him because the Genius knew all of his secret thoughts. Even families, cities and countries had these guardian spirits. The Genius of Rome had a golden statue in the VIII regio.

Everyone gave honour to his own Genius, especially at his birthday when he gave offerings to him but only flowers, wine and incense, because it was not allowed to kill any animal on this day. A vow done by the Genius of the emperor was the most steadfast oath as if it was done by Jupiter himself. Some suggested that the Genius was identical with the Animus, others that he actually was the mind of men. But because also mountains, swamps, lakes, fountains, valleys and forests had their own Genius it could be concluded that he actually was a fictive entity invented only to put the humans in fear and to prevent them from vice (Hederich).
Licinianus Licinius (c. 263 - 325) was Roman emperor from 308 to 324.
Of Dacian (Thracian) peasant origin, born in Moesia Superior, Licinius accompanied his close childhood friend, the Emperor Galerius, on the Persian expedition in 297. After the death of Flavius Valerius Severus, Galerius elevated Licinius to the rank of Augustus in the West on November 11, 308. He received as his immediate command the provinces of Illyricum, Thrace and Pannonia.
On the death of Galerius, in May 311, Licinius shared the eastern empire with Maximinus Daia, the Hellespont and the Bosporus being the dividing line.
In March 313 he married Flavia Julia Constantia, half-sister of Constantine, at Mediolanum (now Milan); they had a son, Licinius the Younger, in 315. Their marriage was the occasion for the jointly-issued "Edict of Milan" that restored confiscated properties to Christian congregations and allowed Christianity to be professed in the empire.
In the following month, on April 30, Licinius inflicted a decisive defeat on Maximinus at the Battle of Tzirallum, after Maximinus had tried attacking him. Then, Licinius established himself master of the East, while his brother-in-law, Constantine, was supreme in the West.
In 314, a civil war erupted between Licinius and Constantine, in which Constantine prevailed at the Battle of Cibalae in Pannonia (October 8, 314) and again two years later, when Licinius named Valerius Valens co-emperor, in the plain of Mardia (also known as Campus Ardiensis) in Thrace. The emperors were reconciled after these two battles and Licinius had his co-emperor Valens killed.
Licinius' fleet of 350 ships was defeated by Constantine I's fleet in 323. In 324, Constantine, tempted by the "advanced age and unpopular vices" of his colleague, again declared war against him, and, having defeated his army of 170,000 men at the Battle of Adrianople (July 3, 324), succeeded in shutting him up within the walls of Byzantium. The defeat of the superior fleet of Licinius in the Battle of the Hellespont by Crispus, Constantine's eldest son and Caesar, compelled his withdrawal to Bithynia, where a last stand was made; the Battle of Chrysopolis, near Chalcedon (September 18), resulted in Licinius' final submission. While Licinius' co-emperor Sextus Martinianus was killed, Licinius himself was spared due to the pleas of his wife, Constantine's sister, and interned at Thessalonica. The next year, Constantine had him killed, accusing him of conspiring to raise troops among the barbarians.
Serbian tradition
For unknown reasons, Licinius was traditionally for centuries throughout the entire Serbian historiography considered as a Serb and as a forefather of the House of Nemanjić. This only changed with historical accounts of Slavic migrations by 19th century historians.