---
---
---
---
---
---
List of All Roman Emperors and Empresses Chronologically organized:
Ancient Greek Cities or Kingdoms of Interest
Ancient Greek Rulers of Interest
Related to Christianity
Ancient Greek / Roman Deities, Locations and more:
Astrological Ancient Coins - Just some of the Ideas for Owning, available inside my eBay store.
Byzantine Coins
Browse by Category:
Probus - Roman Emperor 276-282 A.D. Biography and Certified Authentic Ancient Coins Available to Invest Into
Buy authentic ancient coins of Emperor Probus who ruled 276-282 A.D. A fun way to learn about ancient history, by reading
the biography and seeing actual coins of ancient Rome. Get incredible value, with the beautiful, custom-made, full-color,
professionally researched certificate of authenticity, a $50-$100 value all in itself, absolutely free, no matter what coin
you buy. A fun way to learn about and preserve history for future generations. Ancient coins make a great gift, investment
and collection all in one. Find out for your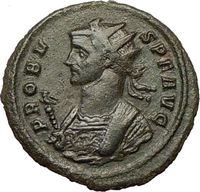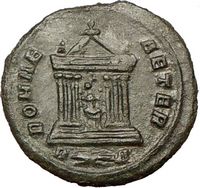 Example of Authentic Ancient Coin of:
Probus - Roman Emperor: 276-282 A.D.
Bronze Antoninianus Rome mint: 281 A.D.
Reference: RIC 187h, C 528
IMPPROBVSPFAVG - Radiate bust left, wearing imperial mantle, holding scepter with eagle atop.
ROMAEAETER Exe: R(thunderbolt)B - Temple with six columns; Roma seated within.
In traditional Roman religion, Roma was a female deity who personified the city of Rome and more broadly, the Roman state. Her image appears on the base of the column of Antoninus Pius. Roma, formerly queen of almost the whole earth. Horace (L. iv. od. 3) calls her the prince of cities; and according to Martial (L. xii. epig. 8) she is terrarum dea gentiumque.
Marcus Aurelius Probus (c. August 19, 232–September/October, 282) was a Roman Emperor (276–282).
A native of Sirmium (now Sremska Mitrovica, Serbia), in Pannonia, at an early age he entered the army, where he distinguished himself under the Emperors Valerian, Aurelian and Tacitus. He was appointed governor of the East by Tacitus, at whose death he was immediately proclaimed his successor by the soldiers (276).
Florianus, who had claimed to succeed his half-brother Tacitus, was put to death by his own troops after an indecisive campaign. Probus moved to the West, defeated the Goths acquiring the title of Gothicus (280), and saw his position ratified by the Senate.
The reign of Probus was mainly spent in successful wars by which he re-established the security of all the frontiers. The most important of these operations were directed to clearing Gaul of German invaders (Franks, Longiones, Alamanni and Burgundians), allowing Probus to adopt the titles of Gothicus Maximus and Germanicus Maximus. One of his principles was never to allow the soldiers to be idle, and to employ them in time of peace on useful works, such as the planting of vineyards in Gaul, Pannonia and other districts, in order to restart the economy in these devastated lands.
In 279–280, Probus was, according to Zosimus, in Raetia, Illyricum and Lycia, where he fought the Vandals. In the same years, Probus' generals defeated the Blemmyes in Egypt; Probus ordered the reconstruction of bridges and canals along the Nile, where the production of grain for the Empire was centered.
In 280–281, Probus had also put down three usurpers, Julius Saturninus, Proculus and Bonosus. The extent of these revolts is not clear, but there are clues that they were not just local problems. In 281, the emperor was in Rome, where he celebrated his triumph.
Probus was eager to start his eastern campaign, delayed by the revolts in the west. He left Rome in 282, moving first towards Sirmium, his birth city, when the news that Marcus Aurelius Carus, commander of the Praetorian Guard, had been proclaimed emperor reached him. Probus sent some troops against the new usurper, but when those troops changed sides and supported Carus, Probus's soldiers then assassinated him (September/October 282).
Just some of recently listed authentic ancient coins and artifacts from a selection of thousands of items:


PROBUS 280AD Authentic Ancient Roman Coin Pax Irene Peace Goddess i35312

US $7.99 (0 Bid)
Sale Ends: Saturday Dec-14-2013 8:20:32 PST
Place a Bid

PROBUS 280AD Quality Silvered Ancient Roman Coin Sol SUN GOD Horse i14652
US $200.00 (0 Bid)
Sale Ends: Friday Dec-13-2013 23:20:23 PST
Place a Bid

PROBUS 277AD Ancient Roman Coin Nude MARS War God w Spear and trophy i27190
US $45.00 (0 Bid)
Sale Ends: Friday Dec-13-2013 23:13:30 PST
Place a Bid

PROBUS 281AD Original Silvered Ancient Roman Coin JUPITER King of Gods i26361
US $49.00 (0 Bid)
Sale Ends: Friday Dec-13-2013 23:02:03 PST
Place a Bid


Click here to View more from my Store >
GREEK City in Sicily 300BC Rare Ancient Greek Coin Olw Thunderbolt i24918

US $49.00 (0 Bid)
Sale Ends: Sunday Dec-15-2013 19:16:56 PST
Place a Bid

Gallienus son of Valerian I Ancient Roman Coin Fortuna Luck Wealth i33023
US $39.00 (0 Bid)
Sale Ends: Sunday Dec-15-2013 19:14:49 PST
Place a Bid

Greek city 300-100BC Greek Coin Asclepius w medical symbol staff i33960 RARE
US $39.00 (0 Bid)
Sale Ends: Sunday Dec-15-2013 19:13:13 PST
Place a Bid

Greek City 300BC Greek Coin ZEUS HORSE i19545
US $39.00 (0 Bid)
Sale Ends: Sunday Dec-15-2013 19:12:06 PST
Place a Bid

Nicephorus III Botaneiates FIRST CRUSADE Byzantine COIN Christ Cross i33324
US $45.00 (0 Bid)
Sale Ends: Sunday Dec-15-2013 19:10:46 PST
Place a Bid

Gallienus son of Valerian I Ancient Roman Coin Fortuna Luck Wealth i33045
US $66.00
Sale Ends: Tuesday Jan-07-2014 18:52:15 PST
Buy It Now for only: US $66.00
Buy it Now
SEPTIMIUS SEVERUS Gnosticism Kabbalah Occult Ancient Roman Coin i22448 Hermes
US $850.00 (0 Bid)
Sale Ends: Sunday Dec-15-2013 18:43:50 PST
Place a Bid

SEPTIMIUS SEVERUS 193AD Anchialus in Thrace Nude Hermes Money Roman Coin i31930
US $69.00 (0 Bid)
Sale Ends: Sunday Dec-15-2013 18:42:55 PST
Place a Bid

ATHENS in Attica Greece BIG 393BC Silver Greek Coin ATHENA OWL wisdom i21923
US $1,000.00 (0 Bid)
Sale Ends: Sunday Dec-15-2013 18:41:08 PST
Place a Bid

AUGUSTUS Victory Over Brutus Cassius Killers of Julius Caesar Roman Coin i30068
US $300.00 (0 Bid)
Sale Ends: Sunday Dec-15-2013 18:36:58 PST
Place a Bid

Roman Republic Sextus Pompey 42BC Rare Ancient Silver Coin Nude Neptune i28502
US $3,700.00
Sale Ends: Tuesday Jan-07-2014 18:38:55 PST
Buy It Now for only: US $3,700.00
Buy it Now
COMMODUS Asclepius Heals Bull VETERENARIUM Medicine God Roman Coin i28321
US $2,400.00
Sale Ends: Tuesday Jan-07-2014 17:56:38 PST
Buy It Now for only: US $2,400.00
Buy it Now
KAMARINA Sicily 413BC Trias ATHENA & OWL LIZARD Ancient Greek Coin i24288
US $85.00 (0 Bid)
Sale Ends: Sunday Dec-15-2013 17:38:50 PST
Place a Bid

Constantine I The Great 330AD Ancient Roman Coin Legions Glory of Army i36238
US $4.99 (0 Bid)
Sale Ends: Sunday Dec-15-2013 17:29:43 PST
Place a Bid

CONSTANTINE II Jr. Constantine the Great son Ancient Roman Coin Altar i26135
US $150.00 (0 Bid)
Sale Ends: Sunday Dec-15-2013 17:28:38 PST
Place a Bid

CRISPUS Constantine the Great son 317AD Thesslonica Ancient Roman Coin i25209
US $170.00 (0 Bid)
Sale Ends: Sunday Dec-15-2013 17:25:47 PST
Place a Bid

CONSTANTINE I the GREAT 325AD OPEN DOOR Camp gate Rare Roman Coin i29420
US $200.00 (0 Bid)
Sale Ends: Sunday Dec-15-2013 17:23:26 PST
Place a Bid

Fausta Constantine the Great wife Ancient Roman Coin Fausta as Spes Hope i33475
US $180.00 (0 Bid)
Sale Ends: Sunday Dec-15-2013 17:18:58 PST
Place a Bid

Constantine I The Great 318AD Ancient Roman Coin Two Victories w shield i36339
US $125.00
Sale Ends: Tuesday Jan-07-2014 14:10:26 PST
Buy It Now for only: US $125.00
Buy it Now
CONSTANTINE II Constantine the Great son Roman Coin Glory of Army i36338
US $125.00
Sale Ends: Tuesday Jan-07-2014 14:03:44 PST
Buy It Now for only: US $125.00
Buy it Now
CONSTANTIUS II Constantine the Great son Ancient Roman Coin Horse Battle i36337
US $100.00
Sale Ends: Tuesday Jan-07-2014 13:51:28 PST
Buy It Now for only: US $100.00
Buy it Now
Constantine I The Great 330AD Ancient Roman Coin Legions Glory of Army i36336
US $75.00
Sale Ends: Tuesday Jan-07-2014 13:02:13 PST
Buy It Now for only: US $75.00
Buy it Now
CONSTANS 348AD Roman Coin GALLEY PHOENIX firebird CHI-RHO Christ monogr i36335
US $100.00
Sale Ends: Tuesday Jan-07-2014 12:56:26 PST
Buy It Now for only: US $100.00
Buy it Now
Arcadius crowned by Victory 395AD Rare Authentic Ancient Roman Coin i36334
US $125.00
Sale Ends: Tuesday Jan-07-2014 12:50:57 PST
Buy It Now for only: US $125.00
Buy it Now
CONSTANTINE I the GREAT 322AD Aquileia Ancient Roman Coin Wreath i36333
US $29.00 (0 Bid)
Sale Ends: Sunday Dec-15-2013 12:39:54 PST
Place a Bid

CONSTANTIUS II son of Constantine the Great Roman Coin Glory of Army i36332
US $6.99 (0 Bid)
Sale Ends: Sunday Dec-15-2013 12:32:20 PST
Place a Bid

CONSTANTIUS II son of Constantine the Great Roman Coin Glory of Army i36331
US $39.00 (0 Bid)
Sale Ends: Sunday Dec-15-2013 12:26:35 PST
Place a Bid

CONSTANTIUS II son of Constantine the Great Roman Coin Glory of Army i36330
US $125.00
Sale Ends: Tuesday Jan-07-2014 12:24:55 PST
Buy It Now for only: US $125.00
Buy it Now
Valerian II Gallienus son with globe & spear Silver Ancient Roman Coin i35925
US $29.00 (0 Bid)
Sale Ends: Sunday Dec-15-2013 1:00:53 PST
Place a Bid

Constantine I The Great founds Constantinople Ancient Roman Coin Victory i36329
US $69.00 (0 Bid)
Sale Ends: Saturday Dec-14-2013 20:31:41 PST
Place a Bid

Constantine I The Great 320AD Silvered Ancient Roman Coin Vexillum Flag i36328
US $75.00
Sale Ends: Monday Jan-06-2014 20:30:33 PST
Buy It Now for only: US $75.00
Buy it Now
VALENS "Last True Roman" 364AD Ancient Roman Coin Victory Nike Angel i36327
US $125.00
Sale Ends: Monday Jan-06-2014 20:24:14 PST
Buy It Now for only: US $125.00
Buy it Now
VALENTINIAN I 364AD Ancient Roman Coin Nike Victory Angel i36326
US $125.00
Sale Ends: Monday Jan-06-2014 20:18:44 PST
Buy It Now for only: US $125.00
Buy it Now
Constantine I The Great 335AD Ancient Roman Coin Legions Glory of Army i36325
US $125.00
Sale Ends: Monday Jan-06-2014 20:12:45 PST
Buy It Now for only: US $125.00
Buy it Now
VALENS "Last True Roman" 364AD Ancient Roman Coin Victory Nike Angel i36324
US $125.00
Sale Ends: Monday Jan-06-2014 20:01:57 PST
Buy It Now for only: US $125.00
Buy it Now
Constantine I The Great 320AD Ancient Roman Coin Wreath of sussess i36323
US $29.00 (0 Bid)
Sale Ends: Saturday Dec-14-2013 19:48:53 PST
Place a Bid

Licinius I Constantine The Great enemy 317AD Ancient Roman Coin Jupiter i36322
US $125.00
Sale Ends: Monday Jan-06-2014 19:46:50 PST
Buy It Now for only: US $125.00
Buy it Now
Constantine II Constantine the Great son Ancient Roman Coin Wreath i36321
US $39.00 (0 Bid)
Sale Ends: Saturday Dec-14-2013 19:34:18 PST
Place a Bid

CONSTANTIUS II Constantine the Great son Roman Coin Battle Horse man i36320
US $125.00
Sale Ends: Monday Jan-06-2014 19:30:02 PST
Buy It Now for only: US $125.00
Buy it Now
Lysimacheia in Thrace 309BC Ancient Greek Coin LION APOLLO Healer God i33988
US $115.00 (0 Bid)
Sale Ends: Saturday Dec-14-2013 14:25:42 PST
Place a Bid

Macedonia Greek District ALEXANDER the GREAT Olympic-Style Games Rare Roman Coin
US $69.00 (0 Bid)
Sale Ends: Saturday Dec-14-2013 10:35:00 PST
Place a Bid

GORDIAN III Viminacium 239AD Bull Lion Legions VII IIIIAncient Roman Coin i27532
US $333.00 (0 Bid)
Sale Ends: Saturday Dec-14-2013 10:34:38 PST
Place a Bid

CARACALLA 215AD Berytus Large Ancient Billon Silver Roman Coin EAGLE i32369
US $320.00 (0 Bid)
Sale Ends: Saturday Dec-14-2013 10:33:20 PST
Place a Bid

Tiberius son of Augustus Ancient Roman Coin Rare Anthena on bull i28491
US $200.00 (0 Bid)
Sale Ends: Saturday Dec-14-2013 10:29:02 PST
Place a Bid

GETA Assaria Pautalia in Thrace Ancient Roman Coin ALTAR Gorgoneion i16433
US $4.99 (0 Bid)
Sale Ends: Saturday Dec-14-2013 10:27:29 PST
Place a Bid

ANTONINUS PIUS 138AD Unpublished Epiphanea Cilicia Ancient Roman Coin i27465
US $185.00 (0 Bid)
Sale Ends: Saturday Dec-14-2013 10:24:39 PST
Place a Bid

ELAGABALUS Bisexual Emperor Rare Ancient Roman Coin NEMESIS Rhamnous i22688
US $9.99 (0 Bid)
Sale Ends: Saturday Dec-14-2013 10:22:13 PST
Place a Bid

AUGUSTUS 27BC Ancient Roman Coin Two Colonists plowing w two oxen i32280
US $49.00 (0 Bid)
Sale Ends: Saturday Dec-14-2013 10:10:56 PST
Place a Bid

Faustina I Ancient Silver Roman Coin Arise After Death Eternity Ouroboros i29359
US $190.00 (0 Bid)
Sale Ends: Saturday Dec-14-2013 10:08:21 PST
Place a Bid

SEPTIMIUS SEVERUS Nicopolis Ancient Roman Coin Thanatos Daemon of Death i22676
US $78.00 (0 Bid)
Sale Ends: Saturday Dec-14-2013 10:02:51 PST
Place a Bid

GORDIAN III 238AD Tarusus Cilica LARGE Roman Possibly Unpublished Coin i31084
US $4.99 (0 Bid)
Sale Ends: Saturday Dec-14-2013 9:59:40 PST
Place a Bid

Constantine The Great 337AD Ancient Roman Coin Horse Arising after death i34579
US $120.00 (0 Bid)
Sale Ends: Saturday Dec-14-2013 9:58:19 PST
Place a Bid

Plotinopolis "Quadrans" Marcus Aurelius Time Unpublished Roman Coin i31764
US $190.00 (0 Bid)
Sale Ends: Saturday Dec-14-2013 9:56:31 PST
Place a Bid

FAUSTINA I Ancient Silver Roman Coin Pietas Arising after one's death i33567
US $190.00 (0 Bid)
Sale Ends: Saturday Dec-14-2013 9:54:57 PST
Place a Bid

CLAUDIUS II Ancient Roman Coin Arising after death Lit altar RARE i34779
US $4.99 (0 Bid)
Sale Ends: Saturday Dec-14-2013 9:51:29 PST
Place a Bid

SEPTIMIUS SEVERUS 193AD Nicopolis ad Istrum Artemis Diana Hunt Roman Coin i34432
US $9.99 (0 Bid)
Sale Ends: Saturday Dec-14-2013 9:50:28 PST
Place a Bid

HADRIAN 131AD HUGE Rare Ancient Roman Coin SHIP David R Sear Certificate i16950
US $1,600.00 (0 Bid)
Sale Ends: Saturday Dec-14-2013 8:33:45 PST
Place a Bid

Caracalla 198AD PHilippopolis in Thrace Ancient Roman Coin NUDE ATHLETE i31080
US $69.00 (0 Bid)
Sale Ends: Saturday Dec-14-2013 8:32:15 PST
Place a Bid

NERO on Horse DECVRSIO 65AD Lyon Mint HUGE Sestertius Ancient Roman Coin i31416
US $1,000.00 (0 Bid)
Sale Ends: Saturday Dec-14-2013 8:30:56 PST
Place a Bid

Alexander the Great Mithradates VI time Pompey enemy Silver Greek Coin i32353
US $750.00 (0 Bid)
Sale Ends: Saturday Dec-14-2013 8:29:38 PST
Place a Bid

CARACALLA Philippopolis Rare Ancient Roman Coin Thanatos Daemon of Death i24949
US $85.00 (0 Bid)
Sale Ends: Saturday Dec-14-2013 8:25:36 PST
Place a Bid

PROBUS 280AD Authentic Ancient Roman Coin Pax Irene Peace Goddess i35312
US $7.99 (0 Bid)
Sale Ends: Saturday Dec-14-2013 8:20:32 PST
Place a Bid

Elagabalus Bisexual Emperor 220AD Ancient Roman Coin Victory i35334
US $2.99 (0 Bid)
Sale Ends: Saturday Dec-14-2013 8:19:26 PST
Place a Bid

Elagabalus Bisexual Emperor sacrificing 221AD Silver Ancient Roman Coin i32524
US $5.99 (0 Bid)
Sale Ends: Saturday Dec-14-2013 8:17:22 PST
Place a Bid

Roman Republic C. Sulpicius C. f. Galba 106BC Silver Coin PIG SACRIFICE i33900
US $690.00 (0 Bid)
Sale Ends: Saturday Dec-14-2013 8:16:06 PST
Place a Bid

Gallienus son of Valerian I Ancient Roman Coin Security i35986
US $4.99 (0 Bid)
Sale Ends: Saturday Dec-14-2013 8:15:10 PST
Place a Bid

Anastasius I 491AD HUGE Ancient Authentic Medieval Byzantine Coin i34981
US $9.99 (0 Bid)
Sale Ends: Friday Dec-13-2013 23:39:41 PST
Place a Bid

CARACALLA Pautalia in Thrace 198AD Ancient Roman Coin STAR MOON i22728
US $59.00 (0 Bid)
Sale Ends: Friday Dec-13-2013 23:38:20 PST
Place a Bid

Hadrian travelling 117AD Ancient Roman Coin Galley "Trireme" i34435
US $59.00 (0 Bid)
Sale Ends: Friday Dec-13-2013 23:29:39 PST
Place a Bid

Caracalla 198AD Pautalia in Thrace Rare Ancient Roman Coin Dolphin i28157
US $59.00 (0 Bid)
Sale Ends: Friday Dec-13-2013 23:28:17 PST
Place a Bid

SEPTIMIUS SEVERUS 193AD Nicopolis Roman RARE Coin Six-pointed star Moon i28905
US $89.00 (0 Bid)
Sale Ends: Friday Dec-13-2013 23:27:19 PST
Place a Bid

CLAUDIUS II Gothicus 268AD Ancient Roman Coin Mercury Commerce symbol i32175
US $49.00 (0 Bid)
Sale Ends: Friday Dec-13-2013 23:26:11 PST
Place a Bid

VESPASIAN 75AD Ancient Silver Denarius Roman Coin PAX Peace i33566
US $300.00 (0 Bid)
Sale Ends: Friday Dec-13-2013 23:24:38 PST
Place a Bid

PROBUS 280AD Quality Silvered Ancient Roman Coin Sol SUN GOD Horse i14652
US $200.00 (0 Bid)
Sale Ends: Friday Dec-13-2013 23:20:23 PST
Place a Bid

GORDIAN III Grandson of Gordian I Ancient RARE Roman Coin Winged caduceus i22293
US $133.00 (0 Bid)
Sale Ends: Friday Dec-13-2013 23:18:15 PST
Place a Bid

GORDIAN III 238AD Odessos Thrace Roman Coin Tyche Fortuna crowns Athena i21769
US $69.00 (0 Bid)
Sale Ends: Friday Dec-13-2013 23:14:30 PST
Place a Bid

PROBUS 277AD Ancient Roman Coin Nude MARS War God w Spear and trophy i27190
US $45.00 (0 Bid)
Sale Ends: Friday Dec-13-2013 23:13:30 PST
Place a Bid

BRUTUS Julius Caesar Assassin 42BCRARE Military Mint Silver Roman Coin i31175
US $1,200.00 (0 Bid)
Sale Ends: Friday Dec-13-2013 23:10:47 PST
Place a Bid

JULIA DOMNA SILVER Roman Coin Juno LUNA Wife & sister of Jupiter i18024
US $120.00 (0 Bid)
Sale Ends: Friday Dec-13-2013 23:09:04 PST
Place a Bid

AUGUSTUS victoryover BRUTUS CASSIUS Assassins of Julius Caesar Roman Coin i29128
US $250.00 (0 Bid)
Sale Ends: Friday Dec-13-2013 23:03:52 PST
Place a Bid

PROBUS 281AD Original Silvered Ancient Roman Coin JUPITER King of Gods i26361
US $49.00 (0 Bid)
Sale Ends: Friday Dec-13-2013 23:02:03 PST
Place a Bid

CARACALLA 198AD Thantos Daemond of Death Ancient Roman Coin Serdica i31979
US $9.99 (0 Bid)
Sale Ends: Friday Dec-13-2013 23:00:06 PST
Place a Bid

GORDIAN III son of Gordian II Grandson of Gordian I Silver Roman Coin i21827
US $115.00 (0 Bid)
Sale Ends: Friday Dec-13-2013 22:56:00 PST
Place a Bid

VALERIAN I 253AD Viminacium mint Billon Silver Roman Coin Virtus i36016
US $9.99 (0 Bid)
Sale Ends: Friday Dec-13-2013 22:52:50 PST
Place a Bid

Trajan 98AD Thessalonica in Macedonia Ancient Roman Coin Wreath Rare i28866
US $79.00 (0 Bid)
Sale Ends: Friday Dec-13-2013 22:51:02 PST
Place a Bid

PHILIP I 247AD Viminacium Sestertius LEGIONS Ancient Roman Coin BULL LION i20516
US $9.99 (0 Bid)
Sale Ends: Friday Dec-13-2013 22:49:48 PST
Place a Bid

DRUSUS JULIUS CAESAR son of Tiberius Grandson of Augustus Roman Coin i33922
US $490.00 (0 Bid)
Sale Ends: Friday Dec-13-2013 22:48:26 PST
Place a Bid

6 Identified Authentic Ancient Roman Coin Lot "Beginner Coin Collection" i36253
US $9.99 (0 Bid)
Sale Ends: Friday Dec-13-2013 22:46:57 PST
Place a Bid

GALLIENUS son of Valerian I KOINON Athena Rare Roman Coin i19194
US $49.00 (0 Bid)
Sale Ends: Friday Dec-13-2013 22:46:36 PST
Place a Bid

CLAUDIUS II Gothicus 268AD Ancient Roman Coin Fides Trust Standards i28834
US $75.00 (0 Bid)
Sale Ends: Friday Dec-13-2013 22:43:50 PST
Place a Bid

AUGUSTUS Victory Over Brutus Cassius Killers of Julius Caesar Roman Coin i33670
US $49.00 (0 Bid)
Sale Ends: Friday Dec-13-2013 22:40:32 PST
Place a Bid

TIBERIUS & LIVIA wife of Augustus 22AD Thessalonica Ancient Roman Coin i21957
US $250.00 (0 Bid)
Sale Ends: Friday Dec-13-2013 6:24:47 PST
Place a Bid

OTACILIA SEVERA 244AD Ancient Roman Coin HYGEIA Salus Serpent Very rare i20496
US $290.00 (0 Bid)
Sale Ends: Friday Dec-13-2013 6:19:34 PST
Place a Bid

CARACALLA ASCLEPIUS, HYGEIA & TELESPHORUS 198AD Ancient Roman Coin i21284
US $250.00 (0 Bid)
Sale Ends: Friday Dec-13-2013 5:52:15 PST
Place a Bid

CLAUDIUS & ANTONIA Mark Antony daughter 41AD RARE Ancient Roman Coin i28340
US $330.00 (0 Bid)
Sale Ends: Friday Dec-13-2013 5:46:29 PST
Place a Bid

JULIA MAMAEA 222AD Nicaea Bithynia Legionary Standards Ancient Roman Coin i27463
US $350.00 (0 Bid)
Sale Ends: Friday Dec-13-2013 5:33:09 PST
Place a Bid

PHILIP I the Arab 244AD NUDE HERCULES & ANTEUS Medallic HUGE Roman Coin i28336
US $450.00 (0 Bid)
Sale Ends: Friday Dec-13-2013 5:29:58 PST
Place a Bid

TITUS & DOMITIAN CAESARS 77AD Stobi Macedonia Roman Coin Dionysus Temple i28335
US $450.00 (0 Bid)
Sale Ends: Friday Dec-13-2013 5:17:23 PST
Place a Bid

Jesus Christ Birth Magii Azes II on Horse 35BC Ancient Silver Greek Coin i35918
US $59.00 (0 Bid)
Sale Ends: Friday Dec-13-2013 3:56:14 PST
Place a Bid

Nicephorus III Botaneiates FIRST CRUSADE Byzantine COIN Christ Cross i36281
US $99.00 (0 Bid)
Sale Ends: Friday Dec-13-2013 3:46:49 PST
Place a Bid


Click here to View more from my Store >