---
---
---
---
---
---
List of All Roman Emperors and Empresses Chronologically organized:
Ancient Greek Cities or Kingdoms of Interest
Ancient Greek Rulers of Interest
Related to Christianity
Ancient Greek / Roman Deities, Locations and more:
Astrological Ancient Coins - Just some of the Ideas for Owning, available inside my eBay store.
Byzantine Coins
Browse by Category:
Zeno Rare Byzantine "Roman-era" Emperor 474-475 and 476-491 A.D. Biography & Authentic Ancient Coins for Sale
Enjoy incredible value as every coin purchased here comes with it's own, signed, custom-made certificate of authenticity, a
$50-$100 value, absolutely free! Check it out today.
You can watch the video below for more info.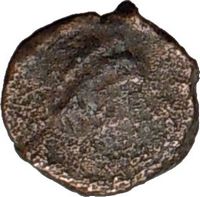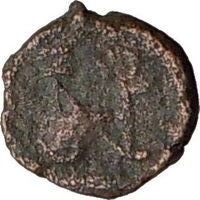 Example of Authentic Ancient Coin of:
Zeno - Roman Emperor: 474-475 & 476-491 A.D. -
Bronze AE4 Antioch mint: 476-491 A.D.
Reference: RIC 973
DNZENO - Diademed, draped and cuirassed bust right.
Wreath; monogram
within.
Zeno (Latin: Flavius Zeno; Greek: Ζήνων; c. 425 – 9 April 491), originally named Tarasis, was Eastern Roman (Byzantine) Emperor from 474 to 475 and again from 476 to 491. Domestic revolts and religious dissension plagued his reign, which nevertheless succeeded to some extent in foreign issues. His reign saw the end of the Western Roman Empire under Julius Nepos and Romulus Augustulus, but he contributed much to stabilizing the eastern Empire.
In ecclesiastical history, Zeno is associated with the Henotikon or "instrument of union", promulgated by him and signed by all the Eastern bishops, with the design of solving the monophysite controversy.
Zeno was an Eastern emperor during the waning days of the empire. His career was recorded through a series of endless plots against him which failed to oust him from power entirely. Indeed, he even served as emperor-in-exile during a revolt that briefly saw Basiliscus rise to the throne in 475. He eventually recaptured the throne himself to resume a rocky relationship with the Western half of the empire as well as frequent domestic problems of every sort. Following the favorable resolution of the Basiliscus affair he had ample time as well to watch the final collapse of the Western half of the empire. As he had no resources to contend with the germanic tribesmen who were exerting ever more control over the former empire, he could do little more than accept the inevitable outcome. Although this made him nominally ruler of the entire Roman empire after the death of Julius Nepos in 480, in practice he held no sway at all in any of the former Roman provinces. In the end, one of his most remarkable feats was the very fact that he was able to survive for so long in this strife-ridden age.
Just some of recently listed authentic ancient coins and artifacts from a selection of thousands of items:



Click here to View more from my Store >




CONSTANTINE I the GREAT 347AD Ancient Roman Coin Christian Deification i35592

US $69.00 (0 Bid)
Sale Ends: Thursday Dec-12-2013 12:54:21 PST
Place a Bid

CONSTANTIUS I Constantine the Great Dad Ancient Roman Coin Africa Lion i14697
US $350.00 (0 Bid)
Sale Ends: Thursday Dec-12-2013 12:53:07 PST
Place a Bid

ARCADIUS 404AD Rare Authentic Original Ancient Roman Coin Cross i30343
US $87.00 (0 Bid)
Sale Ends: Thursday Dec-12-2013 12:51:17 PST
Place a Bid

CONSTANTINE I the GREAT Romulus Remus Ancient Roman Coin WOLF i24786
US $87.00 (0 Bid)
Sale Ends: Thursday Dec-12-2013 12:49:06 PST
Place a Bid

THEODOSIUS II 425AD Ancient Roman Coin Cross within wreath of success i32890
US $39.00 (0 Bid)
Sale Ends: Thursday Dec-12-2013 12:43:59 PST
Place a Bid

CRISPUS son of Constantine I the Great London mint Ancient Coin ALTAR i20965
US $140.00 (0 Bid)
Sale Ends: Thursday Dec-12-2013 12:42:39 PST
Place a Bid

ARCADIUS 404AD Rare Authentic Original Ancient Roman Coin Cross i33092
US $27.00 (0 Bid)
Sale Ends: Thursday Dec-12-2013 12:39:09 PST
Place a Bid

CONSTANTINE I the GREAT Romulus Remus Silvered Ancient Roman Coin WOLF i24793
US $59.00 (0 Bid)
Sale Ends: Thursday Dec-12-2013 12:11:58 PST
Place a Bid

THEODOSIUS II 425AD Ancient Roman Coin Cross within wreath of success i32515
US $39.00 (0 Bid)
Sale Ends: Thursday Dec-12-2013 12:08:54 PST
Place a Bid

Helena Saint Mother of Constantine the Great 326AD Roman Coin Security i30293
US $150.00 (0 Bid)
Sale Ends: Thursday Dec-12-2013 12:07:47 PST
Place a Bid

CONSTANTINE I the GREAT 322AD Aquileia Ancient Roman Coin Wreath i30296
US $150.00 (0 Bid)
Sale Ends: Thursday Dec-12-2013 12:04:10 PST
Place a Bid

CONSTANTINE I the Great 337AD Heaven CHARIOT Ancient Roman Coin Horses i24343
US $190.00 (0 Bid)
Sale Ends: Thursday Dec-12-2013 12:01:22 PST
Place a Bid

ETENNA Pisidia 1st CentBC Young Men Rescue Girl from Snake God Greek Coin i27510
US $300.00 (0 Bid)
Sale Ends: Thursday Dec-12-2013 10:52:52 PST
Place a Bid

NAPAT King of Persis & Father Very Rare Ancient Silver Greek Coin i23760
US $300.00 (0 Bid)
Sale Ends: Thursday Dec-12-2013 10:50:15 PST
Place a Bid

Lete Silver Ancient Greek Coin Nude Satyr Pan & Dionysus companion i28597
US $330.00 (0 Bid)
Sale Ends: Thursday Dec-12-2013 10:46:28 PST
Place a Bid

Thraco-Macedonian Tribes 450BC Horse Genuine Ancient Silver Greek Coin i22386
US $340.00 (0 Bid)
Sale Ends: Thursday Dec-12-2013 10:43:21 PST
Place a Bid

KALLATIS 281BC Hercules Bow Club Authentic Ancient Silver Greek Coin i30025
US $340.00 (0 Bid)
Sale Ends: Thursday Dec-12-2013 10:40:53 PST
Place a Bid

Caligula 37AD Rome mint HUGE Ancient Roman Coin VESTA Home Family RARE i34176
US $220.00 (0 Bid)
Sale Ends: Thursday Dec-12-2013 10:38:01 PST
Place a Bid

GALLIENUS son of Valerian I Silver Ancient Roman Coin ROMA with Victory i26664
US $49.00 (0 Bid)
Sale Ends: Thursday Dec-12-2013 10:37:37 PST
Place a Bid

PHILIP I the ARAB 247AD Rare Ancient Silver Roman Coin ROMA w Victory i26748
US $120.00 (0 Bid)
Sale Ends: Thursday Dec-12-2013 10:36:48 PST
Place a Bid

SALONINA daughter in law of Valerian I Billon Silver Ancient Roman Coin i21573
US $145.00 (0 Bid)
Sale Ends: Thursday Dec-12-2013 10:33:06 PST
Place a Bid

GELA in Sicily Bull w man head Horse Very Rare Ancient Silver Greek Coin i22400
US $600.00 (0 Bid)
Sale Ends: Thursday Dec-12-2013 10:30:08 PST
Place a Bid

CLEOPATRA VII & MARK ANTONY Portraits 36BC Chalcis Ancient Roman Coin i31195
US $1,900.00 (0 Bid)
Sale Ends: Thursday Dec-12-2013 10:27:28 PST
Place a Bid

SEPTIMIUS SEVERUS 193AD Emesa mint Ancient Silver Roman Coin Victory i26614
US $89.00 (0 Bid)
Sale Ends: Thursday Dec-12-2013 9:09:50 PST
Place a Bid

Severus Alexander Crisis of 3rd Century Silver Ancient Roman Coin i30207
US $99.00 (0 Bid)
Sale Ends: Thursday Dec-12-2013 9:09:31 PST
Place a Bid

SINOPE colony of Miletos 415BC Eagle Nymph Ancient Silver Greek Coin i31179
US $380.00 (0 Bid)
Sale Ends: Thursday Dec-12-2013 9:08:44 PST
Place a Bid

Philip II Alexander the Great Dad OLYMPIC GAMES Ancient Greek Coin Horse i18153
US $260.00 (0 Bid)
Sale Ends: Thursday Dec-12-2013 8:38:28 PST
Place a Bid

Philip II Alexander the Great Dad OLYMPIC GAMES Ancient Greek Coin Horse i24373
US $170.00 (0 Bid)
Sale Ends: Thursday Dec-12-2013 8:36:28 PST
Place a Bid

MESEMBRIA in Thrace 450BC Helmet & Wheel Ancient Silver Greek Coin RARE i22948
US $250.00 (0 Bid)
Sale Ends: Thursday Dec-12-2013 8:32:24 PST
Place a Bid

DYNASTS of LYCIA. 450BC Athena & Apollo Ancient Silver Greek Coin i26973
US $250.00 (0 Bid)
Sale Ends: Thursday Dec-12-2013 8:24:48 PST
Place a Bid

PTOLEMY IV Huge 41mm Greek Egyptian King Rare Ancient Coin Zeus EAGLE i20922
US $1,000.00 (0 Bid)
Sale Ends: Thursday Dec-12-2013 8:17:24 PST
Place a Bid

ELIS - City of Birth of OLYMPIC GAMES 196BC Ancient Silver Greek Coin i31878
US $290.00 (0 Bid)
Sale Ends: Thursday Dec-12-2013 7:50:00 PST
Place a Bid

Chersonesos in Thrace 400BC Lion & Incuse Rare Ancient Silver Greek Coin i26122
US $300.00 (0 Bid)
Sale Ends: Thursday Dec-12-2013 5:23:05 PST
Place a Bid

PHILIP II Alexander the Great Dad OLYMPIC GAMES Silver Greek Coin i31177
US $350.00 (0 Bid)
Sale Ends: Thursday Dec-12-2013 5:11:23 PST
Place a Bid

MITHRA on Kingdom of Persis Ardaxsir (Artaxerxes) III Silver "Greek" Coin i32691
US $330.00 (0 Bid)
Sale Ends: Thursday Dec-12-2013 5:08:31 PST
Place a Bid

IVAN ALEXANDER Czar King 1331AD Ancient Medieval Bulgarian Coin RARITY 9 i20771
US $29.00 (0 Bid)
Sale Ends: Thursday Dec-12-2013 5:03:49 PST
Place a Bid

MARK ANTONY& Cleopatra Legion IX Battle Actium Augustus Silver Roman Coin i30153
US $95.00 (0 Bid)
Sale Ends: Thursday Dec-12-2013 5:02:11 PST
Place a Bid

Himera in Sicily 420BC Ancient Greek Coin Naked youth on goat Nike Rare i28410
US $330.00 (0 Bid)
Sale Ends: Thursday Dec-12-2013 4:51:55 PST
Place a Bid

Histiaia Euboia Nymph 300BC Authentic Ancient Silver Greek Coin Galley i28263
US $400.00 (0 Bid)
Sale Ends: Thursday Dec-12-2013 4:49:40 PST
Place a Bid

SINOPE colony of Miletos 480BC RARE Ancient Silver Greek Coin Eagle head i31163
US $415.00 (0 Bid)
Sale Ends: Thursday Dec-12-2013 4:45:12 PST
Place a Bid

PHERAE (Pherai) Greek City in Thessaly 404BC Ennodia Lion Ancient Coin i28343
US $400.00 (0 Bid)
Sale Ends: Thursday Dec-12-2013 4:41:47 PST
Place a Bid

Opus LOKRIS OPUNTIA 369BC Nude Ajax Sword Ancient Silver Greek Coin RARE i31883
US $500.00 (0 Bid)
Sale Ends: Thursday Dec-12-2013 4:35:56 PST
Place a Bid

KIOS in BITHYNIA 350BC Apollo Galley Ship Ancient Silver Greek Coin RARE i31897
US $500.00 (0 Bid)
Sale Ends: Thursday Dec-12-2013 4:32:55 PST
Place a Bid

Thasos Silver Ancient Greek Coin Nude Satyr Pan & Dionysus companion i28595
US $600.00 (0 Bid)
Sale Ends: Thursday Dec-12-2013 4:26:35 PST
Place a Bid

Fibula 100BC Quality Ancient SILVER Roman Clothes Fastener ARTIFACT i24184
US $170.00 (0 Bid)
Sale Ends: Thursday Dec-12-2013 4:02:08 PST
Place a Bid

Washington American Revolution Bicentennial HUGE Medal Liberty Tree i32049
US $88.00 (0 Bid)
Sale Ends: Wednesday Dec-11-2013 19:06:58 PST
Place a Bid

KINGS of PERSIS 1st Century AD Silver Obol Ancient Coin i32036
US $69.00 (0 Bid)
Sale Ends: Wednesday Dec-11-2013 19:02:26 PST
Place a Bid

Latin Empire 1204AD Ancient Byzantine Coin Christ Archangel Michael i30699
US $443.00
Sale Ends: Friday Jan-03-2014 16:56:56 PST
Buy It Now for only: US $443.00
Buy it Now
JUSTIN II & Queen Sophia Rare HUGE Authentic Ancient Byzantine Coin i19209
US $75.00 (0 Bid)
Sale Ends: Wednesday Dec-11-2013 16:50:33 PST
Place a Bid

JOHN II Comnenus 1118AD Ancient Rare BYZANTINE Coin JESUS CHRIST i22669
US $97.00 (0 Bid)
Sale Ends: Wednesday Dec-11-2013 16:45:34 PST
Place a Bid

Romanus IV, Diogenes 1068AD Ancient Byzantine Coin Christ Virgin Orans i35797
US $95.00 (0 Bid)
Sale Ends: Wednesday Dec-11-2013 16:43:24 PST
Place a Bid

GORDIAN III Hadrianopolis Hygeia Salus Medicine Health Roman Coin Rare i21294
US $99.00 (0 Bid)
Sale Ends: Wednesday Dec-11-2013 16:35:40 PST
Place a Bid

SEPTIMIUS SEVERUS 193AD Pautalia COILED SERPENT Ancient Roman Coin i21932
US $99.00 (0 Bid)
Sale Ends: Wednesday Dec-11-2013 16:35:22 PST
Place a Bid

JESUS CHRIST w GOSPELS 1028AD Rare HUGE Ancient Byzantine Coin CROSS i25162
US $200.00 (0 Bid)
Sale Ends: Wednesday Dec-11-2013 16:34:53 PST
Place a Bid

JESUS CHRIST Basil II & Constantine VIII 1025AD ClassA2 Byzantine Coin i34594
US $400.00 (0 Bid)
Sale Ends: Wednesday Dec-11-2013 16:33:26 PST
Place a Bid

SALONINA daughter in law of Valerian I Dium Macedonia Athena Roman Coin i22246
US $190.00 (0 Bid)
Sale Ends: Wednesday Dec-11-2013 16:29:34 PST
Place a Bid

AUGUSTUS Victory Over Brutus Cassius Killers of Julius Caesar Roman Coin i33614
US $39.00 (0 Bid)
Sale Ends: Wednesday Dec-11-2013 16:29:06 PST
Place a Bid

ALEXIUS I Comnenus 1081AD Silver Ancient BYZANTINE Coin CHRIST i22670
US $250.00 (0 Bid)
Sale Ends: Wednesday Dec-11-2013 16:28:40 PST
Place a Bid

SEVERUS ALEXANDER 222AD Nicaea LEGIONARY STANDARDS Ancient Roman Coin i27806
US $48.00 (0 Bid)
Sale Ends: Wednesday Dec-11-2013 16:24:23 PST
Place a Bid

Vespasian 69AD Macedonian mint Large Rare Ancient Roman Coin Shield i33994
US $48.00 (0 Bid)
Sale Ends: Wednesday Dec-11-2013 16:24:02 PST
Place a Bid

SEPTIMIUS SEVERUS 193AD Nicopolis ad Istrum Ancient Roman Coin EAGLE i25880
US $47.00 (0 Bid)
Sale Ends: Wednesday Dec-11-2013 16:23:28 PST
Place a Bid

JULIA DOMNA Thessalonica Ancient Roman Coin Hermes w parazonium Temple i24948
US $49.00 (0 Bid)
Sale Ends: Wednesday Dec-11-2013 16:23:12 PST
Place a Bid

Roman Republic Anonymous SEXTANS 211BC Sicilian Mint Ancient Coin Mercury i34356
US $390.00 (0 Bid)
Sale Ends: Wednesday Dec-11-2013 16:22:51 PST
Place a Bid

Gallienus son of Valerian I Billon Silver Roman Coin Nude Mercury Hermes i28453
US $225.00 (0 Bid)
Sale Ends: Wednesday Dec-11-2013 16:21:11 PST
Place a Bid

GALLIENUS son of Valerian I Ancient Roman Coin Nude Mercury Commerce i14823
US $59.00 (0 Bid)
Sale Ends: Wednesday Dec-11-2013 16:19:57 PST
Place a Bid

JULIA MAMMAEA Roman Empress Nicaea Roman Coin 3 Legionary standards i17605
US $49.00 (0 Bid)
Sale Ends: Wednesday Dec-11-2013 11:01:32 PST
Place a Bid

JULIA MAMAEA Severus Alexander Wife Silver ROMAN Coin Juno Jupiter wife i16313
US $330.00 (0 Bid)
Sale Ends: Wednesday Dec-11-2013 11:00:41 PST
Place a Bid

14 Karat Gold Topaz Diamond Pendant Julia Domna Silver Roman Coin Venus i27540
US $1,100.00 (0 Bid)
Sale Ends: Wednesday Dec-11-2013 10:59:02 PST
Place a Bid

MARONEIA 168BC Dionysus Bacchus Wine God Real Ancient Silver Greek Coin i28318
US $400.00 (0 Bid)
Sale Ends: Wednesday Dec-11-2013 10:57:36 PST
Place a Bid

FLORIAN crowned by Victory Rare 88 day Emperor 276AD Ancient Roman Coin i18197
US $400.00 (0 Bid)
Sale Ends: Wednesday Dec-11-2013 10:55:48 PST
Place a Bid

Sabina wife of Bisexual Emperor Hadrian Rare Silver Ancient Coin Venus i28712
US $450.00 (0 Bid)
Sale Ends: Wednesday Dec-11-2013 10:52:58 PST
Place a Bid

JOHANNES Roman Usurper 423AD VERY RARE Ancient Roman Coin Rome Mint i27530
US $450.00 (0 Bid)
Sale Ends: Wednesday Dec-11-2013 10:51:31 PST
Place a Bid

AURELIAN 279AD Silvered Ancient Roman Coin Nude SOL SUN God w globe i26835
US $350.00 (0 Bid)
Sale Ends: Wednesday Dec-11-2013 10:49:40 PST
Place a Bid

ELAGABALUS Bisexual Emperor 218AD Ancient Silver Roman Coin SALUS i21810
US $700.00 (0 Bid)
Sale Ends: Wednesday Dec-11-2013 10:47:18 PST
Place a Bid

GRATIAN 367AD Ancient Roman Coin Chi-Rho CHRIST Monogram Labarum i26241
US $75.00 (0 Bid)
Sale Ends: Wednesday Dec-11-2013 10:42:44 PST
Place a Bid

DIADUMENIAN Roman Caesar 218AD HUGE Ancient Roman Coin ARTEMIS Diana i16844
US $400.00 (0 Bid)
Sale Ends: Wednesday Dec-11-2013 10:40:18 PST
Place a Bid

HADRIAN Bisexual Emperor 123AD Rare Ancient Roman Silver Coin Equality i28265
US $400.00 (0 Bid)
Sale Ends: Wednesday Dec-11-2013 10:36:49 PST
Place a Bid

Domitian 76AD Silver Ancient Roman Coin Pegasus winged divine horse i31300
US $290.00 (0 Bid)
Sale Ends: Wednesday Dec-11-2013 10:29:32 PST
Place a Bid

ALEXANDER III the GREAT PHILIP III 323BC Ancient Silver Greek Coin i29462
US $690.00 (0 Bid)
Sale Ends: Wednesday Dec-11-2013 10:24:28 PST
Place a Bid

Nero 64AD Semis Ancient Roman Coin ROMA w parazonium - long dagger i32392
US $250.00 (0 Bid)
Sale Ends: Wednesday Dec-11-2013 10:17:58 PST
Place a Bid

Alexander III the Great 336BC Ancient Greek Coin Hercules Bow Club i33741
US $69.00 (0 Bid)
Sale Ends: Wednesday Dec-11-2013 9:50:17 PST
Place a Bid

Cassander 319BC Ancient Rare Greek Coin HERCULES LION i22350
US $59.00 (0 Bid)
Sale Ends: Wednesday Dec-11-2013 9:49:55 PST
Place a Bid

WIDOW's MITE Ancient Biblical Jerusalem Biblical Jesus Era Coin in CROSS i36275
US $99.00 (0 Bid)
Sale Ends: Wednesday Dec-11-2013 9:49:18 PST
Place a Bid

Sardes in Asia Minor 133BC Ancient Greek Coin Apollo Club within Wreath i35823
US $79.00 (0 Bid)
Sale Ends: Wednesday Dec-11-2013 7:40:19 PST
Place a Bid

Alexander III the Great 336BC Ancient Greek Coin Hercules Bow Club i30302
US $68.00 (0 Bid)
Sale Ends: Wednesday Dec-11-2013 7:38:27 PST
Place a Bid

Erythrai in Ionia 350BC Authentic Ancient Greek Coin Hercules Bull head i28202
US $59.00 (0 Bid)
Sale Ends: Wednesday Dec-11-2013 7:38:04 PST
Place a Bid

Augustus Colonia Patricia (Corduba) Spain Large Rare Ancient Roman Coin i32359
US $190.00 (0 Bid)
Sale Ends: Wednesday Dec-11-2013 7:37:28 PST
Place a Bid

ALEXANDER III the GREAT 336BC GAMING TOKEN RARE Ancient Greek Coin i25853
US $49.00 (0 Bid)
Sale Ends: Wednesday Dec-11-2013 7:36:03 PST
Place a Bid

Pergamon Asia Minor 350BC Rare Ancient Greek Coin APOLLO Bulls' heads i27636
US $55.00 (0 Bid)
Sale Ends: Wednesday Dec-11-2013 7:30:23 PST
Place a Bid

Alexander III the Great 336BC Ancient Greek Coin Hercules Bow Club i30272
US $200.00 (0 Bid)
Sale Ends: Wednesday Dec-11-2013 7:26:23 PST
Place a Bid

GALLIENUS son of Valerian I Tyche Fortuna Luck Ancient Roman Coin i24868
US $235.00 (0 Bid)
Sale Ends: Wednesday Dec-11-2013 7:04:21 PST
Place a Bid

CASSANDER Killer of Alexander the Great son Greek Coin HERCULES Horse i27055
US $250.00 (0 Bid)
Sale Ends: Wednesday Dec-11-2013 6:55:21 PST
Place a Bid

LYSIMACHOS successor of Alexander the Great Hercules Ancient Greek Coin i31822
US $55.00 (0 Bid)
Sale Ends: Wednesday Dec-11-2013 6:53:25 PST
Place a Bid

ARADOS Phoenicia ATHENA SHIP 300BC RARE Greek Coin Tyche Fortuna LUCK i24050
US $58.00 (0 Bid)
Sale Ends: Wednesday Dec-11-2013 6:53:00 PST
Place a Bid

Tiberius & Livia Augustus wife 22AD Thessalonica Ancient Roman Coin i30258 RARE
US $220.00 (0 Bid)
Sale Ends: Wednesday Dec-11-2013 6:52:03 PST
Place a Bid

Sardes in Asia Minor Ancient Greek Coin Apollo Club within Wreath i31339
US $48.00 (0 Bid)
Sale Ends: Wednesday Dec-11-2013 6:49:11 PST
Place a Bid

Nero 61AD Antioch Seleucis and Pieria HUGE Silver Ancient Coin EAGLE i32372
US $650.00 (0 Bid)
Sale Ends: Wednesday Dec-11-2013 6:43:45 PST
Place a Bid

THASOS Thracian Island 411BC Nude Satyr Ancient Silver Greek Coin Vase i16119
US $700.00 (0 Bid)
Sale Ends: Wednesday Dec-11-2013 6:42:09 PST
Place a Bid

Birytis in Troas 300BC Ancient Greek Coin Odysseus Ulysses Pilos Club i36307
US $300.00
Sale Ends: Thursday Jan-02-2014 18:03:55 PST
Buy It Now for only: US $300.00
Buy it Now
BERYTOS in PHOENICIA 218AD Satyr Marsyas Galley Ship Ancient Greek Coin i36305
US $85.00
Sale Ends: Thursday Jan-02-2014 17:49:32 PST
Buy It Now for only: US $85.00
Buy it Now

Click here to View more from my Store >